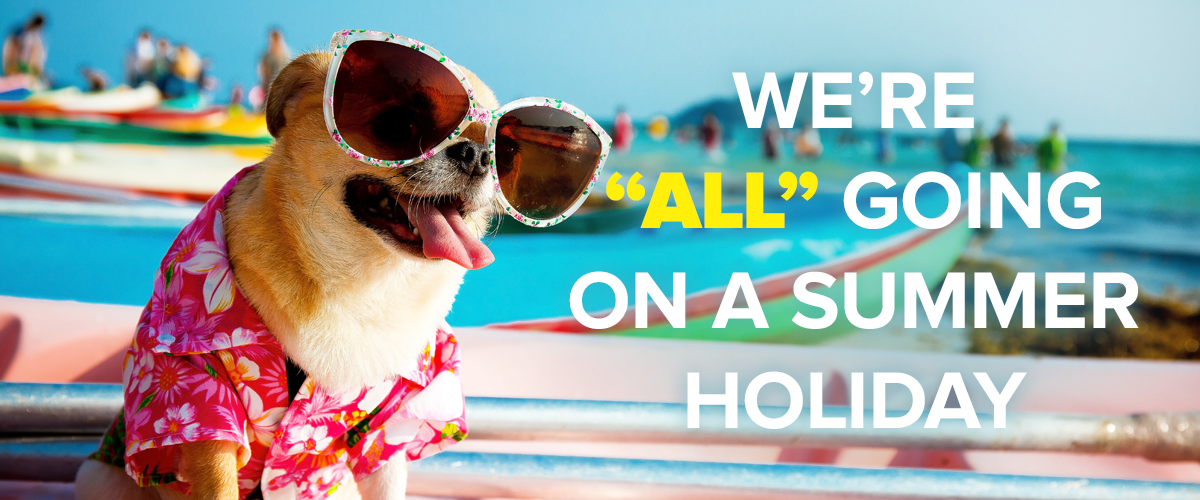 With Christmas just around the corner, many of us are already thinking about a well-deserved holiday – but what about our fur babies? Did you know that just under 70% of pet owners feel guilty about going on holiday and leaving behind their furry family members. Sound familiar? No need to leave them behind - why not take them with you?
Booking a fur baby friendly holiday is becoming more and more popular especially as there is now so much more pet friendly accommodation to choose from.
Leading up to the holiday many of us will start our "Holiday Checklist" but it is just as important that we also start a "Pet Holiday Checklist" too to make sure our furry family member has everything they need to enjoy the family holiday.
We've put together a checklist which includes some handy tips along with a list of items to pack to make sure their suitcase has those all-important holiday items.
Pet Holiday Checklist
Below we have detailed some "Pre-Holiday" checks, just to make sure you are organised and prepared before you leave.
Identification
Always make sure your pet's ID Tag is in good condition and is up to date with your contact details. Remember, being on holiday means that your pet will not know where they are, so if they do get lost you want to make sure you can be contacted so you can be reunited with your pet as quickly as possible.

Did you know?
In NSW in addition to being microchipped all dogs, except working dogs, must wear a collar and tag showing the dog's name and your address or telephone number when outside its own property. If not, you may be liable for a maximum penalty of $880 or $5,500 for a restricted dog, dangerous or menacing dog. Better to be safe.
Travelling by Car
Driving to your destination means that your pet will be travelling in a car a little longer than they are used to, so it is important that they are safe and calm for the trip.
A couple of tips for travelling by car with your pet:
Encourage your pet to go to the loo before you leave

Frequent stops every 2 hours to make sure your pet is comfortable and for toilet breaks (don't forget the poo bags!)

Avoid feeding your pet a couple of hours before you leave

Never leave your pet unattended in a closed car

Make sure you have fresh water with you for your pet to drink



Collapsible Bowls
Ideal for keeping in the car or attaching to your dog's lead. Hydration is so important and by having a collapsible bowl on hand at all times, you can share your bottle of water with your best friend!

Carriers
For smaller pets you may wish for them to travel in a carrier, this way they feel safe and they are contained. Always make sure they have plenty of room to stand up and turn around so that they are comfy. It could also double up as their bed whilst they are away!
Here's a couple of options:

Seat Belt Attachment
If you are not using a carrier, then for dogs you really should be restraining them by using a seat belt attachment. These attachments must be attached to a harness (not a collar) and will need to allow your dog to lay down. Easy to use and a great way to stop your pet exploring in the car if they get bored!

Tip: Using a bed with sides on the car seat can help a dog feel stable and safe when travelling
Tip: Use the back seat where possible for your pet to avoid injury in the event of an accident and the air bag goes off
The Roads and Maritime Services (RMS) advises that police can fine a driver and issue demerit points if an animal is causing the driver to be not in full control of the vehicle, or if they are driving with a dog on their lap. The penalties are three demerit points and $425 (more in a school zone).
Booster Seats
These are a great way of keeping your smaller pets safe. They can snuggle down into the seat which has an inbuilt harness attachment keeping them safe. Easy to attach to the back of the seat allowing you to lift the booster seat up a little higher for those pets that like to see where they are going!


Travel Sickness
Some pets have just never bonded with the idea of being chauffeured around in a car and for these pets a long journey could be quite scary (and result in a bit of a mess on your seat).
Here's a couple of ideas that may help.

Seat Covers

If you're worried about your fur baby fluff getting all over your seats, we've literally got you covered. These products are waterproof too for any of those unplanned mishaps!

Pet Health
If you are going away for a length of time, it may be good to pop along to the vet with your pet for a general health check before you go. This will also give you a chance to have a chat about where you are going. There are certain places in Australia that could be dangerous for dogs such as Tick areas, so it is important to make sure your pet is safe.
Flea, Tick & Worming*
There are certain places in Australia that could be fatal for pets if they don't have the correct treatment prior to going away, such as Tick areas. In these areas it is also recommended to give your pet a check over every day to make sure there are no nasty critter surprises or wounds.
Here are a few treatments for Fleas and Ticks:
Dog Flea & Tick Treatments

Important Note: To be covered for ticks with Advantix it will need to be given every 2 weeks. Never use this treatment on cats as it could be fatal (when treating dogs – keep cats away from the treated area)
Cat Flea & Tick Treatments
*If you are unsure of the treatment you should be using – always consult your vet for advice first.
Medications
If your pet is on medication for a condition, make sure you consult your vet before you travel and stock up on any medications before you go so that you have enough for your pet's holiday.
Prescription Food
If your pet can only eat a certain Vet Prescription Food Diet, make sure you also stock up on that too to avoid any upsets whilst you are away.
Holiday Anxiety
We all know pets can sometimes be creatures of habits, and if all of a sudden they are in strange surroundings (without your bed to sleep on or hide under), this may cause some anxiety.
We have some great supplements, sprays and even treats for cats and dogs that may help with their anxiety and allow your pet to let their hair down on holiday, relax and have lots of fun!

Pet First Aid & Prevention
Your pet will be loving being on holiday, especially all those new places to explore for dogs but sometimes accidents happen. It's always handy to have a pet first aid kit on hand and to also check out where the closest vet is to where you are staying, just in case.
Here's a couple of items you could pack that may help with minor injuries. Also, if your pet it out and about in the sun, we have products to stop those pesky flies biting and something to help protect against the sun. Your pet will then need to remember to slip slop slap too!
Swimming
Being on holiday gives us all that urge to take a dip in the ocean, but make sure you keep an eye on your pooch at all times. Some dogs appear to be strong swimmers but then swim out a little too far and realise they are too tired to swim back in again.
If you are unsure of how good at the doggy paddle your dog is – why not use a Dog Flotation Jacket, that way they will have a little extra help for their morning swim.