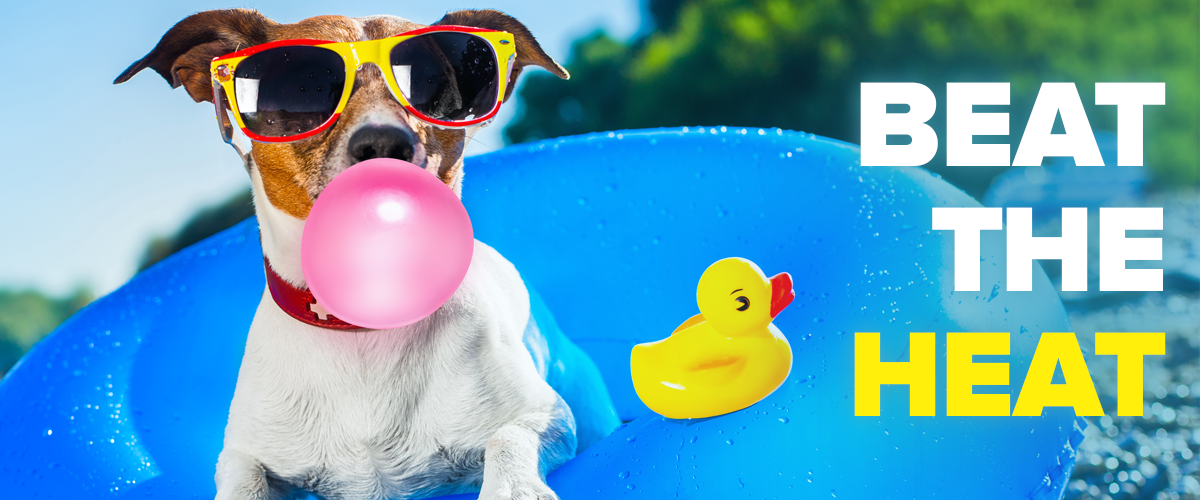 Summer has now well and truly arrived, a time of year that some of us love and some of us are not so keen on.
As pet parents' summer can be a big worry, as the heat rises, we watch our fur babies panting more, drinking more water and looking just as uncomfortable as we are feeling.
Here's a few tip and tricks to help beat the heat and make sure that your fur babies are comfortable and don't suffer in the heat.
Hydration
This is definitely number 1 on the list, making sure your pet has access to a clean supply of water at all times.
Indoors

With the weather getting warmer our pets will pant more and will need more water to hydrate. To make sure that your pet always has access to water, it's a good idea to increase the number of water bowls that you have around the house and change the water regularly.
You could even pop a couple of ice cubes in the water as this will keep their water a little more chilled for longer.
Water fountains are another great way to make sure your pet has sufficient water on hand at all times, holding up to 7.5 litres of water. The fountains will also keep the water filtered all day, great for the dogs that tend to end up with half the garden in their water bowl!
Water fountains are great for cats, especially those that love hopping into the sink when the water is running. Some cats like to play with their water before drinking it is said that this may be so that they can aerate the water before drinking, hence drinking from taps and such like. As they sometimes are not keen on a still water, water fountains are a great way for them to drink and in some cases drink more.

Another great idea to keep water a little cooler, is terracotta bowls. It is believed that some pets prefer to drink out of these bowls, compared to steel or plastic as the water keeps cooler and tastes fresher too. The bowls are also ideal for those dogs that like to swim in their bowls and end up with more water on the floor as opposed to in the bowl!

As you can't use a water fountain outside, (as they need to be plugged in), some pet owners worry about not leaving enough water for their dog to drink during the day. A great solution to this problem is our "Automatic Float Waterer". The water bowl plugs straight into your hose and when your dog drinks it will automatically refill the water when it drops to a certain level. Your dog will always have fresh water all day!




Frozen Water/Treats
If your pet spends a lot of time in the garden, another great idea is to freeze water in containers (such like ice cream containers) – and once frozen, place the containers in the shade. Over the period of a few hours the water will defrost so that your fur baby has nice cool water for most of the day.
To mix it up a little and make their ice block a little more interesting, why not fill the container to half full then add a few yummy treats and top up again with water and freeze. A great way to keep your fur baby entertained and hydrated! Make sure they also have some fresh water in the shade that they can also drink whilst getting through their ice block.

If your fur baby is outside during the day, make sure there is somewhere they can go to get out of the sun.
If it going to be really warm and you are out all day, it's best to leave your fur baby indoors preferably with a fan on or some pet parents prefer to leave the air conditioner on. This way they will not be exposed to the heat all day which can cause heat stress or heat stroke.


Heat Stress or Heatstroke
Heatstroke or heat stress is a state of hyperthermia (elevated core body temperature above the normal range).
Heatstroke can occur in your dog when heat generation exceeds their body's ability to lose heat.
Heatstroke can be fatal, and symptoms include incessant panting, breathing distress, vomiting and/or diarrhea, lethargy, drooling plus more. If you are concerned about your pet, contact your vet immediately for advice.
Reference PIAA https://piaa.net.au/preventing-heat-stress-dogs/
NEVER leave your fur baby in the car, even for a minute, as cars heat up to extreme temperatures
Cooling Mats
Cooling mats are a great way to help your pet cool down both indoors and outdoors.
They keep your pet cool by absorbing body heat & dissipating this back into the air through evaporation via the areas of the cool pad not in use.
Ideal to use all year round, this is a comfortable and supportive mat to cool down your pet and help soothe aching muscles and joints. This is better for your pets than laying on an already cold surface. Scream Cool Pads are suitable for dogs, cats and small animals. Conveniently folds up to make it ideal for travel, this mat does not require a power source to ensure the safety of your pet.
Available in 5 sizes: XS, S, M, L & XL

We've even heard of humans using these too!
If you don't have a cool mat on hand, you could even wet a towel, pop it in the freezer and hey presto! A nice cool place for your pet to lay down.
Another great tip for cats is to freeze water in a water bottle and wrap in a towel. Pop it where your cat "chills" out for a nice cool bed!
Cool Toys
You can also buy toys that you can freeze, this will keep your pet occupied and cool at the same time!
Fill them with water and freeze. A freshness sensation through the frozen water that escapes through the small holes of the toy.

Walking
Avoid walking your pet on very hot days. They may still be keen to get out and about and run around, but this can cause heat stress. For certain breeds such as Pugs, Boxers, French bulldogs and Bullmastiffs, these breeds find it very hard to cool down and can be prone to collapsing in the heat.
If you are considering walking, perhaps take your fur baby out first thing in the morning before the day heats up or later in the evening when it has cooled down.
If you are walking on a path, always check how hot it is. If it is too hot your fur baby will burn their paws. If it is too hot for you to walk on without shoes, it will be too hot for them too.
Always make sure you take enough water with you – for you and your fur baby!
Here's a few ideas for bowls and bottles to keep everyone refreshed.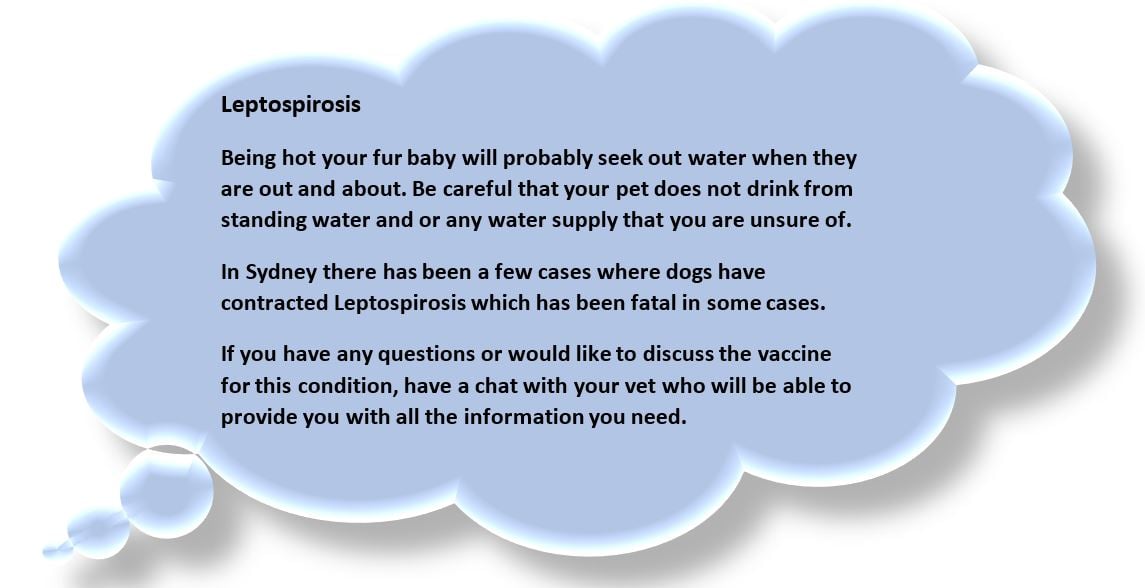 Swimming
Being hot some of us love to go to the beach, if it is pet friendly why not take your pooch with you?
This is a great way for your dog to cool down with a nice swim, just make sure you keep an eye on them at all times. Some dogs appear to be strong swimmers but then swim out a little too far and realise they are too tired to swim back in again.
If you are unsure of how good at the doggy paddle your dog is – why not use a Dog Flotation Jacket, that way they will have a little extra help for their morning swim.

Doggy Sunmist


Pets exposed to the sun can burn too, especially on the delicate areas of their noses and ears. If your dog is going to be exposed to the sun or has sensitive skin – always use a sun tan lotion to protect them from the sun's rays.
Here's one especially made for pets!
Have fun, stay cool and have a great summer with your best friend!